Home Smurfs Supersmurfs Playsets Houses Buildings Contact
Schleich and Bully
catalogues and brochures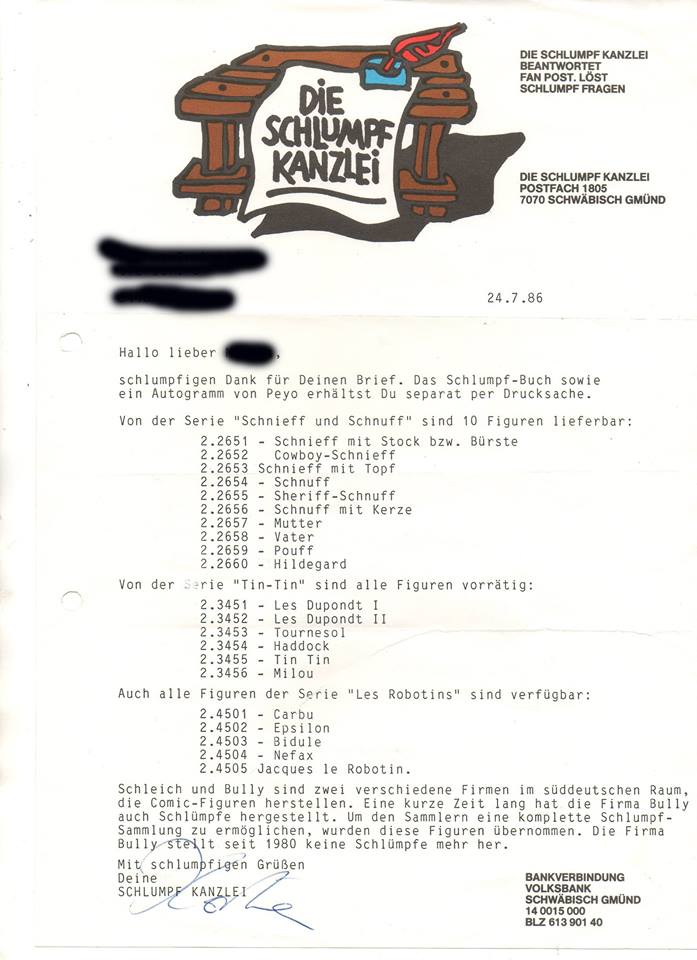 Schleich explains in 1986 in this letter that they took over all the Smurf molds from
Bully in 1980, when Bully stopped manufacturing Smurfs. The reason was that Peyo
wanted collectors to be able to get a complete Smurf collection. Therefore you see
Bully Smurfs in the catalogues after 1980, but remember that they then were made by Schleich.
Thanks Stefan for letting me share these pictures with other collectors.

If there are more catalogues and brochures not
shown here please send me an email. :)

Note that the pictures are high resolution so you can see details better.
So the pictures can look strange in mobile phones or at computers!!!!

Schleich promotion/werbung 1968 Prisoner Smurf
Toy Catalogue with Bully and Schleich( still emblem logo) spring 1978
Toy Store Poster showing new Schleich Smurfette from 1978
EL( Erfolg durch Lizenzen) 1979
National Benzole 1979 Licensing
W Berrie poster 1980 (Schöller flag)
National Benzole Scans Fall 1980
Blue Moon Poster W Berrie/Applause 1984( with retired US smurfs)
Schleich The complete smurf collectors book 1986
Schleich 1988 (30 Jahre Schlümpfe)
Schleich 1992 and booklet with Fireman smurf with red nozzle
IMPS News 1993 and Endress-Hauser 1993
IMPS News nr 9, 1999
IMPS News nr 10, 2000
Schleich 2012
Schleich 2017