Home Smurfs Supersmurfs Playsets Houses Buildings Contact
Smurf Animation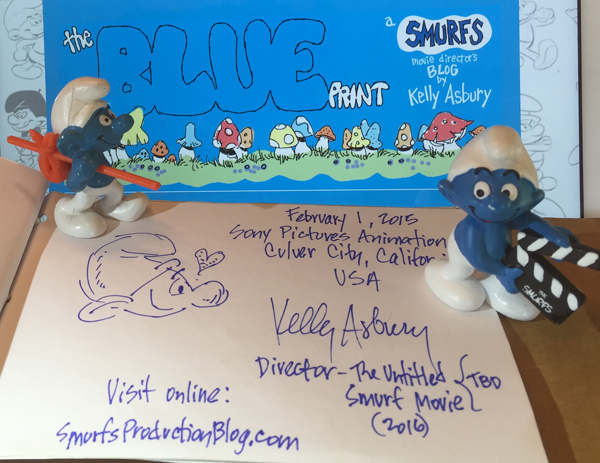 Our World Traveller Smurf had the privilege to visit SPA.
Link to the SmurfsProductionBlog where you can follow the making of the new movie
1965 Belgium
The first film with the smurfs was made already in 1965 by TVA Dupuis. It was called
Les Aventures des Schtroumpfs and consisted of 5 black-and-white shorts made for television.
Smurfnapped, The smurfs and the magic Egg, The black smurf, The smurfs and the Dragon, The flying smurf.
In 1965 TVA Dupuis made this short also, but I do not think it was in the first movie. Le Faux Schtroumpf.
Between October 1967 and May 1968 dutch TV KRO showed 9 episodes of smurf shorts.
Probably made by TVA Dupuis. In the small booklet given away when you bought BP smurfs
in Holland in 1969 they mention that the smurfs were known from TV by children.
Uitzenddatum Nr. Titel Originele titel
11-10-1967 ? ?
08-11-1967 ? ?
06-12-1967 9. Let op de Robotsmurf Le Schtroumpf-robot
03-01-1968 7. De Smurf en zijn draak Le Schtroumpf et son dragon
31-01-1968 ? ?
28-02-1968 1. De zwarte Smurfen Les Schtroumpfs noirs
27-03-1968 2. De Smurf en het ei L'oeuf et les schtroumpfs
22-05-1968 4. De valse Smurf Le faux schtroumpf
1976 La Flûte à six schtroumpfs
In 1976 Brussels Belvision Studios made a second smurf movie which made the figurines even
more populair. It is said that Stuart R Ross travelled in Belgium in 1976 and came across the
smurfs. He then made an agreement with Dupuis and Peyo for the rights for the smurfs in
North America.
It was first released in October in 1976 i Belgium but not until November 1983 in the US.
1978 UK National Benzole
In 1978 when National Benzole started selling smurf merchandise a lot of shorts were made.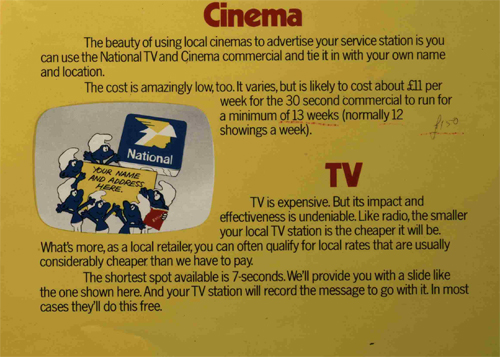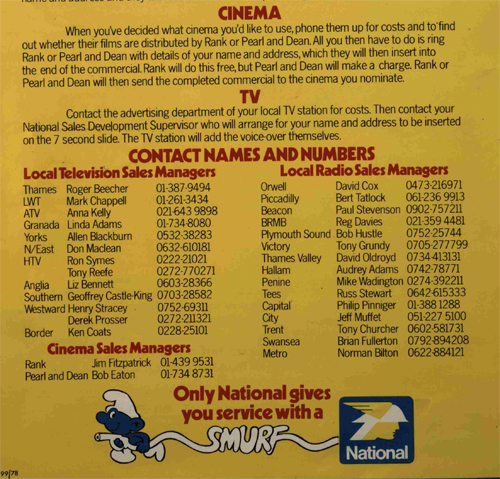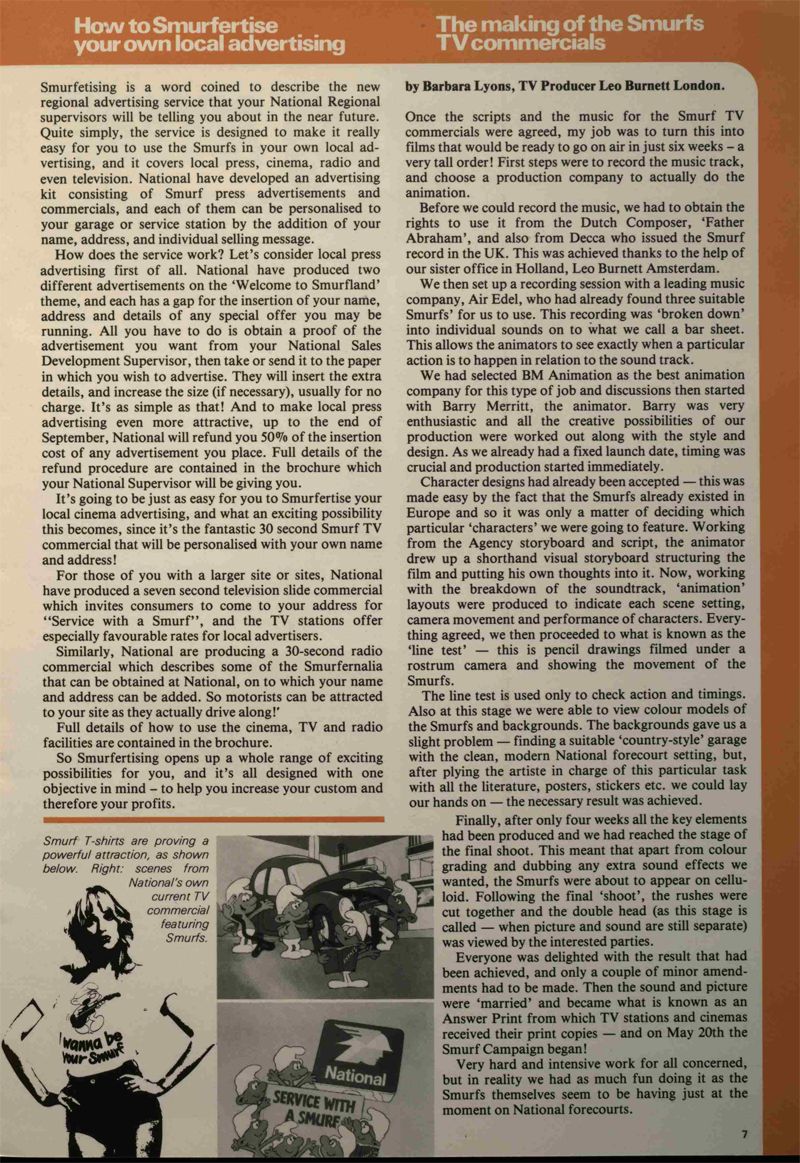 1979
BP answer this when it comes to choosing animators in 1979.

1979 Australia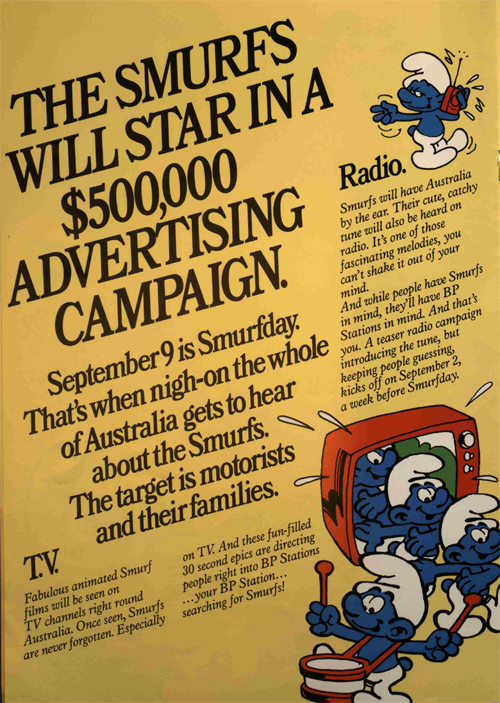 1981 Hanna Barbera and NBC
From september 1981 to december 1989. 256 episodes and 418 stories!!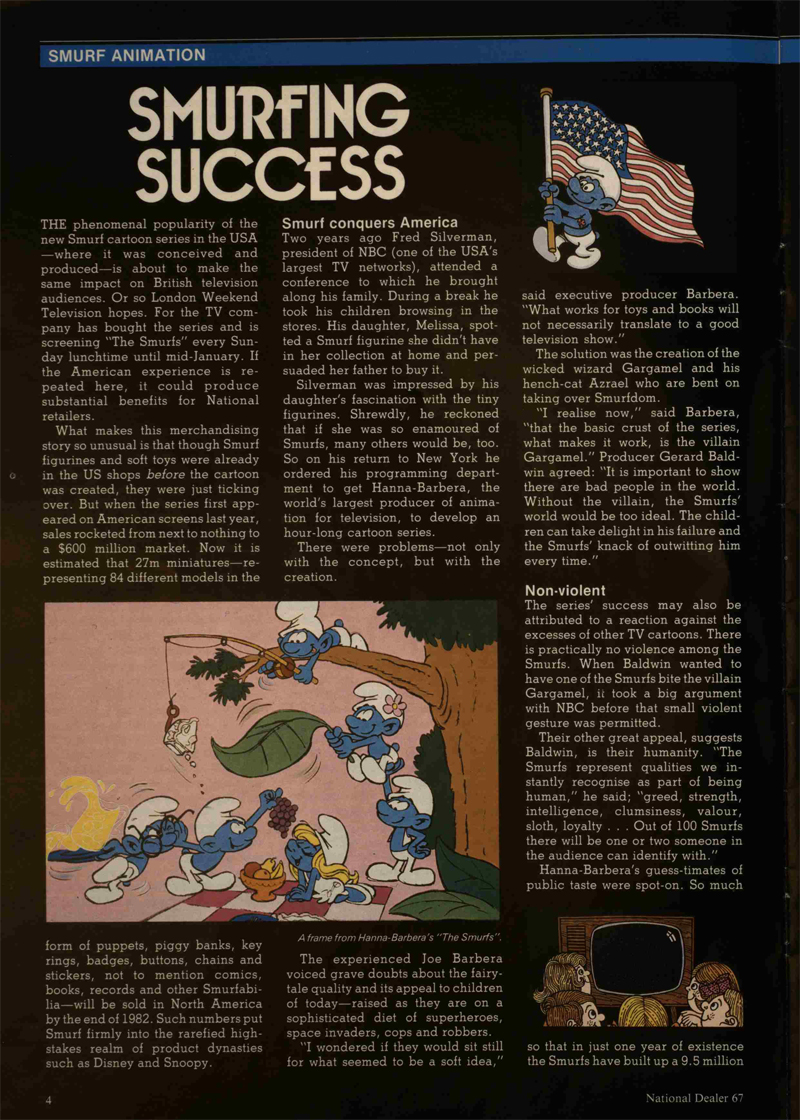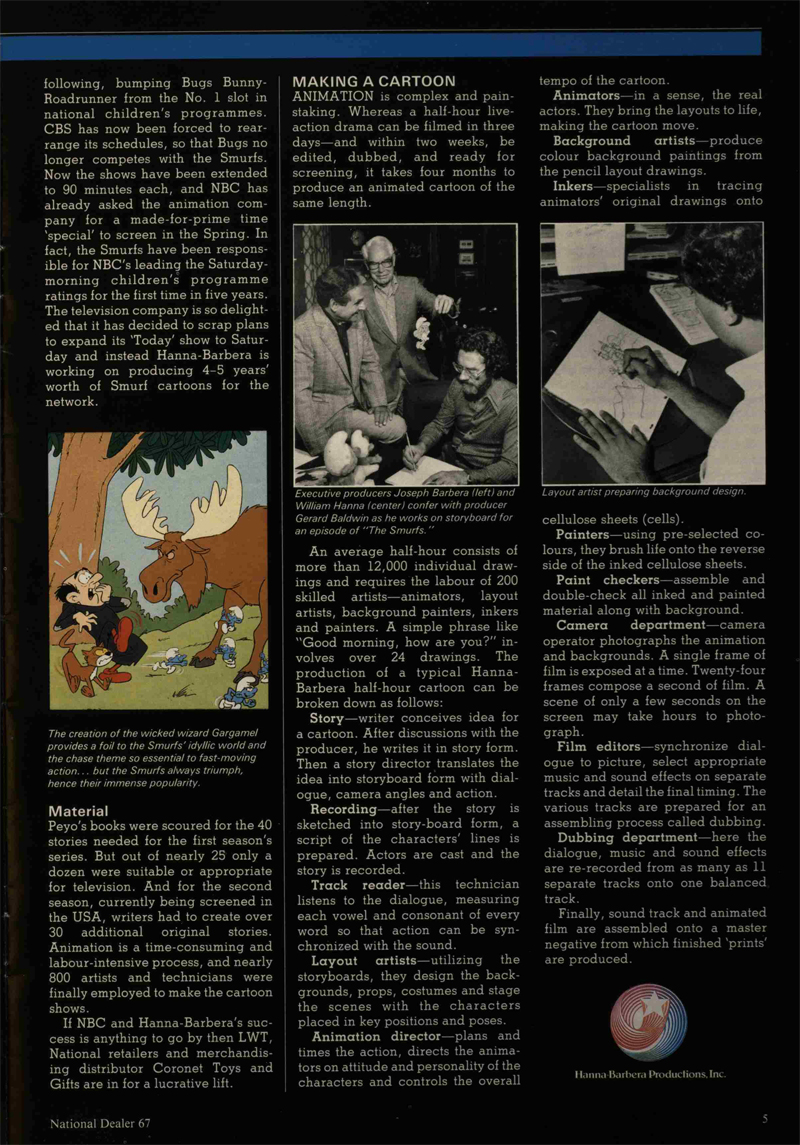 2011 Sony Pictures Animation
Sony Pictures Animation obtained the rights to make a smurf movie in 2008.
The new smurfs from Schleich in 2009 were moviesmurfs and all smurf fans were hoping
for a new movie soon. But the releasedate kept changing. Then finally in 2011 we got
a live-action/animation smurf movie. :)
In 2013 a second movie was made and in 2016 we will get a third movie from Sony Pictures.
However that is completly animated and will not be connected to the first two.
Sony Pictures Animation smurfs made by Schleich