As you see, all boxes in the 1995 Schleichcatalogue can be found and were are sold.
This was the first year with this new design.
Information and variations of these boxes: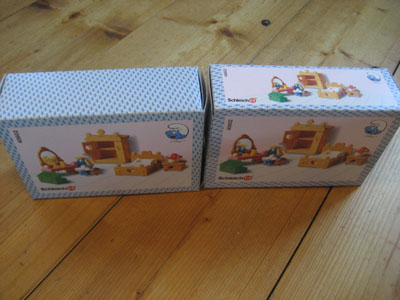 All the first polkadotboxes made for the supersmurfs and all playsets had no picture on
the top. So as you see on the picture to the left the Gargamels lab-box and 6 of the
supersmurfboxes are not the 1995 boxes. But all these 20 supersmurfboxes, 6 playsets
and 2 super playsets can be found without a picture on the top. To the right you see
the differences on the Smurfettes bedroom box. 1995 variation and 1998 variation.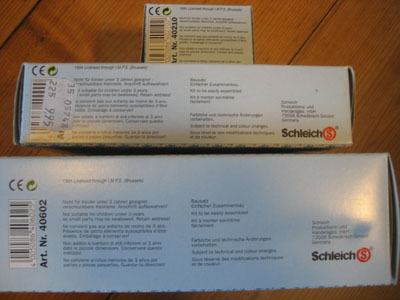 All the boxes sold in 1995 should have this marking.
So 1994( when the boxes were made the first time) marked like these.

On this picture you see that all the first boxes were made without the picture
on the top ofthe box.